Chorale No. 3 (1890)
César Franck, (1822 – 1890)
Clarinet Choir
Chorale No. 3 by Cesar Franck arranged for Clarinet Choir. Originally for pipe organ, this piece by Belgian composer César Franck works very well for the varied sonorities of the clarinet choir. Alternating technical and melodic passages serve to show off some of the best attributes of the clarinet choir's many timbres. The finale to Franck's three organ chorales of 1890, this piece is full of drama and excitement but is also carefully paced with plenty of reflective moments.
As this piece is originally for pipe organ, the doubling of parts is appropriate (possibly even preferred) except where "1 player" is noted. All notes should be held their full rhythmic value. This Clarinet Choir arrangement of Chorale No. 3 has been transposed down a major second from the original key of A minor to the key of G minor to better fit the range of the clarinet. An arrangement of Choral No. 3 is also available for Saxophone Choir. The saxophone parts may be played with the clarinet arrangement.
The following parts are included in this arrangement:
Full Score
E flat Clarinet
B flat Clarinet 1-2-3-4-(5)
E flat Alto Clarinet
Bass Clarinet 1-2-3-(4)
(E flat Contralto Clarinet)
B flat Contrabass Clarinet
B♭ Clarinet 5 is a substitute for E♭ Alto Clarinet. Bass Clarinet 4 is a substitute for B♭ Contrabass Clarinet. E♭ Contralto Clarinet is a substitute for B♭ Contrabass Clarinet. (These three parts are optional and do not appear in the score).
Audio and score excerpts are available above.
Registered users can download a complete sample score and full-length performance of Chorale No. 3 by César Franck on the 'Samples' tab.
About the Composer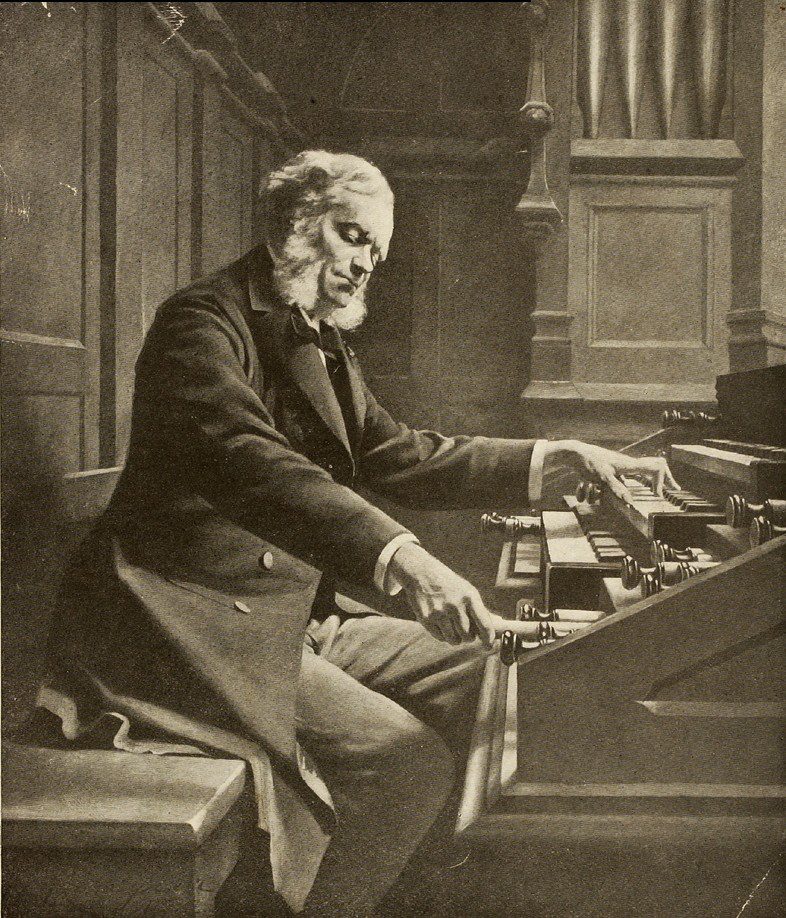 César-Auguste-Jean-Guillaume-Hubert Franck (10 December 1822 – 8 November 1890)
César Franck is an important composer from the latter half of the nineteenth century, particularly of symphonic, chamber, organ and piano music. His stage works were uniformly unsuccessful, though his choral compositions fared somewhat better. He was born in Liège (in the French region which in 1830 became part of a new state, Belgium). Later he led a group of young composers, among them d'Indy, Duparc, and Dukas, who found much to admire in his highly individual post-Romantic style, with its rich, innovative harmonies, sometimes terse melodies, and skilled contrapuntal writing. This group, sometimes known as "la bande à Franck," steered French composition toward symphonic and chamber music, finally breaking the stranglehold of the more conservative opera over French music.
Franck was a keyboard player of extraordinary ability who had a short career as a touring piano virtuoso before moving to Paris and throwing himself into musical studies. In addition, he was an organist at several major churches during his career, and his skills on the organ accounted in great part for his compositional interest in that instrument; his organ compositions stand at the peak of the Romantic organ repertoire. Franck was a man of strong religious convictions throughout his life, which often motivated him to compose works based on biblical texts or on other church sources. For much of his life he was organist at the Paris churches of St.-Jean-St. François and then Ste.-Clothilde, and in 1872 he became a professor at the Paris Conservatoire. His pupils included Vincent d'Indy, Ernest Chausson, Louis Vierne, Charles Tournemire, Guillaume Lekeu and Henri Duparc. After acquiring the professorship Franck wrote several pieces that have entered the standard classical repertoire, including symphonic, chamber, and keyboard works.
His music is often contrapuntally complex, using a harmonic language that is typically late Romantic, showing a great deal of influence from Franz Liszt and Richard Wagner. In his compositions, Franck showed a talent and a penchant for frequent, graceful modulations of key. Often these modulatory sequences, achieved through a pivot chord or through inflection of a melodic phrase, arrive at harmonically remote keys. Indeed, Franck's students report that his most frequent admonition was to always "modulate, modulate." Franck's modulatory style and his idiomatic method of inflecting melodic phrases are among his most recognizable traits.
The key to his music may be found in his personality. His friends record that he was "a man of utmost humility, simplicity, reverence and industry." Louis Vierne, a pupil and later organist of Notre-Dame, wrote in his memoirs that Franck showed a "constant concern for the dignity of his art, for the nobility of his mission, and for the fervent sincerity of his sermon in sound… Joyous or melancholy, solemn or mystic, powerful or ethereal. Franck died in Paris on November 8, 1890.
About the Arranger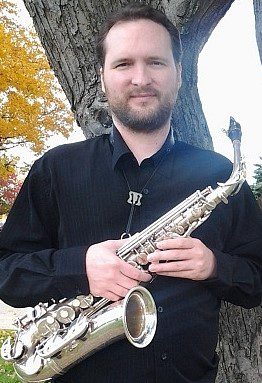 Dr. Thomas Zinninger

Originally from Louisville KY, Dr. Thomas Zinninger has worked as an active saxophonist, composer, arranger, and music educator for the past 20 years. Equally comfortable in a number of styles, his musical experience ranges from combo and big band jazz to classical chamber and orchestral music.
Zinninger 's performance credits include the Cincinnati Pops Orchestra, the Cincinnati Chamber Orchestra, the Richmond Symphony Orchestra, the Kingsville Symphony Orchestra, the Frank Simon Band, the Chamber Winds of Louisville, the Blue Wisp Big Band, and the Cincinnati Contemporary Jazz Orchestra. As a soloist, he has premiered new arrangements for the saxophone at the 16th World Saxophone Congress in St. Andrews Scotland, as well as the 2012, 2014, and 2017 North American Saxophone Alliance Conferences.
Zinninger is currently the Assistant Professor of Saxophone and Jazz at Texas A & M University Kingsville. His duties include teaching applied saxophone, directing the jazz combo and saxophone chamber ensemble programs, teaching saxophone methods, and teaching courses in jazz improvisation. Prior to joining the TAMUK faculty in 2018, he held the Instructor of Saxophone position at Wittenberg University in Springfield, OH where he also directed the jazz ensemble and taught music appreciation. Zinninger has also served both as a graduate assistant and on the faculty at the College-Conservatory of Music (CCM) in Cincinnati, OH. He received a Bachelors in Music Education from the University of Louisville, and a Masters of Music in Jazz Studies and Doctorate of Musical Arts in Saxophone Performance from CCM.