Slavonic Dance No. 7
Antonín Dvořák (1841 – 1904)
Saxophone Orchestra or Choir
Slavonic Dance No. 7 by Antonin Dvorak arranged for Saxophone Orchestra. Originally composed for piano four hands, Dvořák's Slavonic Dances, Op. 46 are a set of short pieces written between 1878 and 1886. The best known versions of the works were adapted by Dvořák for symphony orchestra shortly after their original publication. This arrangement brings Slavonic Dance No. 7 "Skočná" to the large saxophone ensemble. Like many of the other Slavonic Dances, the work is loosely set in rondo form with a main theme in C minor and contrasting themes in major keys. The canonic primary theme is first introduced by a soprano-tenor saxophone duet before being passed around to various other instrument groupings. Though set in a minor key, the composition is full of character and maintains a playful manner throughout. This arrangement is in the original key of C minor.
In addition to a full score, this setting of Slavonic Dance No. 7 includes parts for:
Soprano Saxophone 1, 2, 3
Alto Saxophone 1, 2, 3, 4
Tenor Saxophone 1, 2, 3
Baritone Saxophone 1, 2, 3
Bass Saxophone (optional)
The range for each saxophone part is shown below.
Audio and score excerpts are available above.
Registered users can download a complete sample score and full length performance (by the South Texas Saxophone Orchestra) of Slavonic Dance No. 7 on the 'Samples' tab.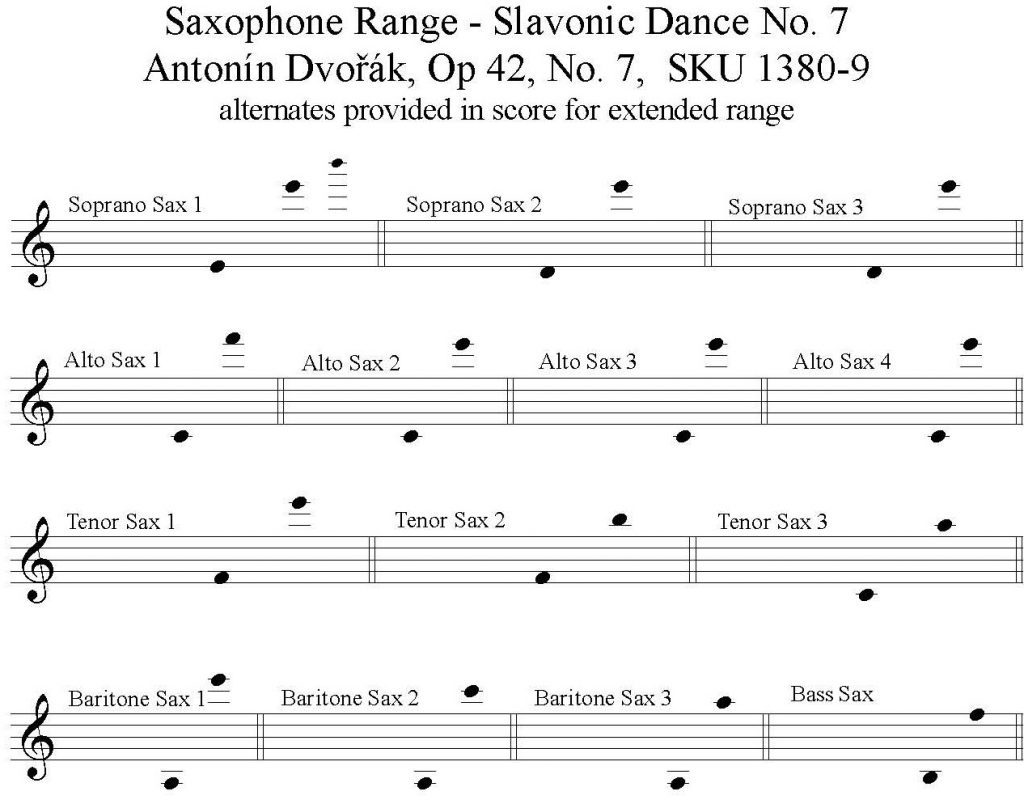 About the Composer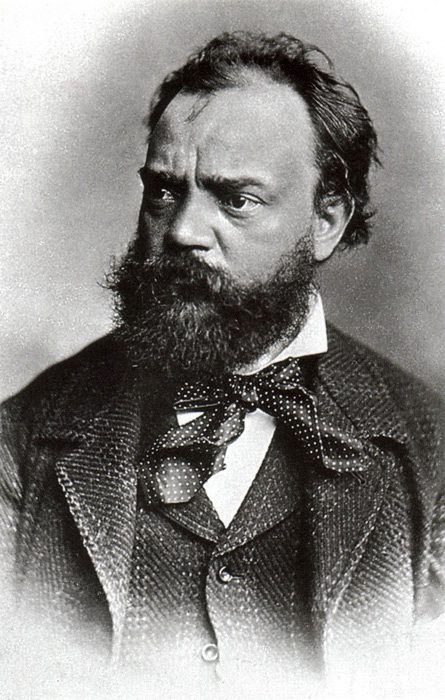 Antonín Dvořák (September 8, 1841 – May 1, 1904)
Born in Nelahozeves, Dvořák displayed his musical gifts at an early age. His first surviving work, Forget-Me-Not Polka in C (Polka pomněnka) was written possibly as early as 1855. He graduated from the organ school in Prague in 1859. In the 1860s, he played viola in the Bohemian Provisional Theater Orchestra and taught piano lessons. For three years in the 1870s when he was still largely unknown, he won a government grant (the Viennese critic Hanslick was among the judges) designed to help the careers of struggling young creative artists. Brahms gained for Dvorák a contract with his own publisher, Simrock, in 1877; the association proved a profitable one despite an initial controversy that flared when Dvorák insisted on including Czech-language work titles on the printed covers, a novelty in those musically German-dominated times. In the 1880s and 1890s Dvorák's reputation became international in scope thanks to a series of major masterpieces that included the Seventh, Eighth, and "New World" symphonies.
After a brief conducting stint in Russia in 1890, Dvořák was appointed as a professor at the Prague Conservatory in 1891. In 1892, Dvořák moved to the United States and became the director of the National Conservatory of Music of America in New York City, where he also composed. However, shortfalls in payment of his salary, along with increasing recognition in Europe and an onset of homesickness made him decide to return to Bohemia. From 1895 until his death, he composed mainly operatic and chamber music. At his death, he left several unfinished works.
Among Dvořák's best known works are his symphony From The New World, the American String Quartet, the opera Rusalka and his Cello Concerto in B minor. Among his smaller works, the seventh Humoresque and the song "Songs My Mother Taught Me" are also widely performed and recorded. He composed operas, choral music, a wide variety of chamber music, concerti and many other orchestral and vocal and instrumental pieces. He has been described as "arguably the most versatile…composer of his time".
About the Arranger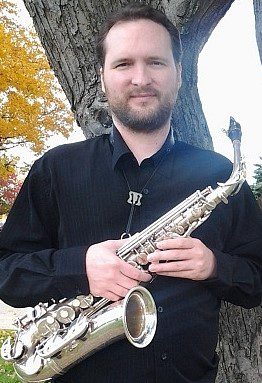 Dr. Thomas Zinninger

Originally from Louisville KY, Dr. Thomas Zinninger has worked as an active saxophonist, composer, arranger, and music educator for the past 20 years. Equally comfortable in a number of styles, his musical experience ranges from combo and big band jazz to classical chamber and orchestral music.
Zinninger 's performance credits include the Cincinnati Pops Orchestra, the Cincinnati Chamber Orchestra, the Richmond Symphony Orchestra, the Kingsville Symphony Orchestra, the Frank Simon Band, the Chamber Winds of Louisville, the Blue Wisp Big Band, and the Cincinnati Contemporary Jazz Orchestra. As a soloist, he has premiered new arrangements for the saxophone at the 16th World Saxophone Congress in St. Andrews Scotland, as well as the 2012, 2014, and 2017 North American Saxophone Alliance Conferences.
Zinninger is currently the Assistant Professor of Saxophone and Jazz at Texas A & M University Kingsville. His duties include teaching applied saxophone, directing the jazz combo and saxophone chamber ensemble programs, teaching saxophone methods, and teaching courses in jazz improvisation. Prior to joining the TAMUK faculty in 2018, he held the Instructor of Saxophone position at Wittenberg University in Springfield, OH where he also directed the jazz ensemble and taught music appreciation. Zinninger has also served both as a graduate assistant and on the faculty at the College-Conservatory of Music (CCM) in Cincinnati, OH. He received a Bachelors in Music Education from the University of Louisville, and a Masters of Music in Jazz Studies and Doctorate of Musical Arts in Saxophone Performance from CCM.