Nocturne (1842)
Felix Mendelssohn, (1809 – 1847)
Saxophone Choir or Octet
Nocturne from A Midsummer Night's Dream, Op. 61 by Felix Mendelssohn, arranged for Saxophone Choir or Saxophone Octet.
Among Mendelssohn's first published works was the Overture to A Midsummer Night's Dream (1826). Sixteen years later he was able to pick up where he had left off, as it were, when in 1842 he accepted a commission to write incidental music for the entire play. The Nocturne is number seven of thirteen pieces he wrote for the Shakespeare comedy.
The Nocturne from A Midsummer Night's Dream is one of the most beautiful and romantic melodies Mendelssohn ever composed. In the original instrumentation, the melody is given to the first horn. In this arrangement, Alto Sax 1 carries the melody throughout.
In addition to a full score, this setting of Nocturne from A Midsummer Night's Dream is includes parts for:
Soprano Saxophone 1,2,3
Alto Saxophone 1,2,3
Tenor Saxophone 1,2,3
Baritone Saxophone 1,2
Bass Saxophone
Although scored for 12 voices, this arrangement may be performed as an octet using only the first and second parts. All third parts and bass saxophone are optional.
The range for each saxophone part is shown below.
Audio and score excerpts are available above.
Registered users can download a complete sample score and full length audio file of Nocturne from A Midsummer Night's Dream on the 'Samples' tab.
About the Composer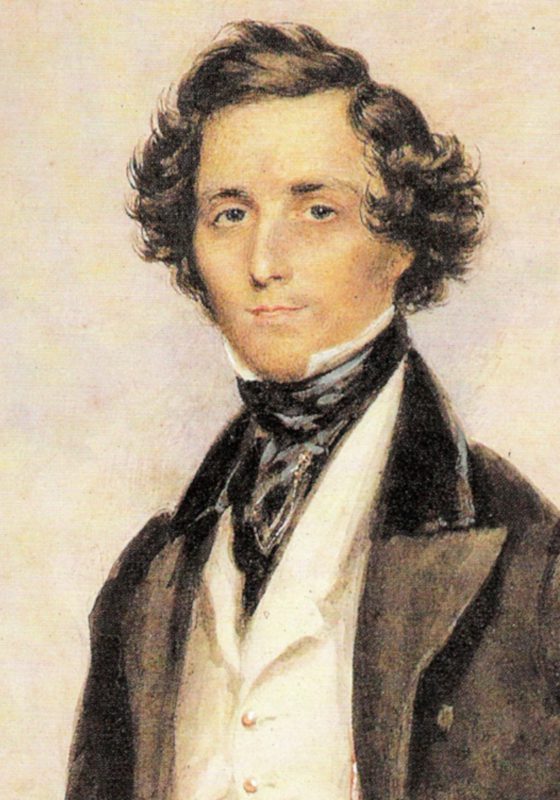 Felix Mendelssohn, (3 February 1809 – 4 November 1847)
Jakob Ludwig Felix Mendelssohn Bartholdy, born and widely known as Felix Mendelssohn, was a German composer, pianist, organist and conductor of the early Romantic period. Mendelssohn's compositions include symphonies, concertos, piano music and chamber music.
A grandson of the philosopher Moses Mendelssohn, Felix Mendelssohn was born into a prominent Jewish family. He was recognized early as a musical prodigy, but his parents were cautious and did not seek to capitalize on his talent.
After his death, his reputation diminished and his music was held in poor esteem due to changing musical tastes and antisemitism in the late 19th and early 20th centuries. Over the last 50 years his creative originality has been re-evaluated. He is now among the most popular composers of the Romantic era.