Abendlied
Josef Rheinberger (1839-1901)
Saxophone Sextet SAATTB with alternate parts
Abendlied by Josef Rheinberger arranged for flexible saxophone sextet or saxophone choir. Originally for 6 part a capella mixed choir, Abendlied readily lends itself to performance by saxophone ensemble. This arrangement is scored to allow great flexibility. The intended ensemble is SAATTB but the alternate parts permit many variations. In addition to the standard parts, (Soprano, Alto 1, Alto 2, Tenor 1, Tenor 2, Baritone) this arrangement of Abendlied includes the following alternate parts:
Alto Sax 3 – Soprano double
Alto Sax 4 – Tenor 1 double
Tenor Sax 3 – Bari double
Tenor Sax 4 – Alto Sax 2 double
Bass Sax – Bari double
The range for each saxophone part is shown below.
Audio and score excerpts are available above.
Registered users can download a complete sample score and full length audio file of Abendlied on the 'Samples' tab.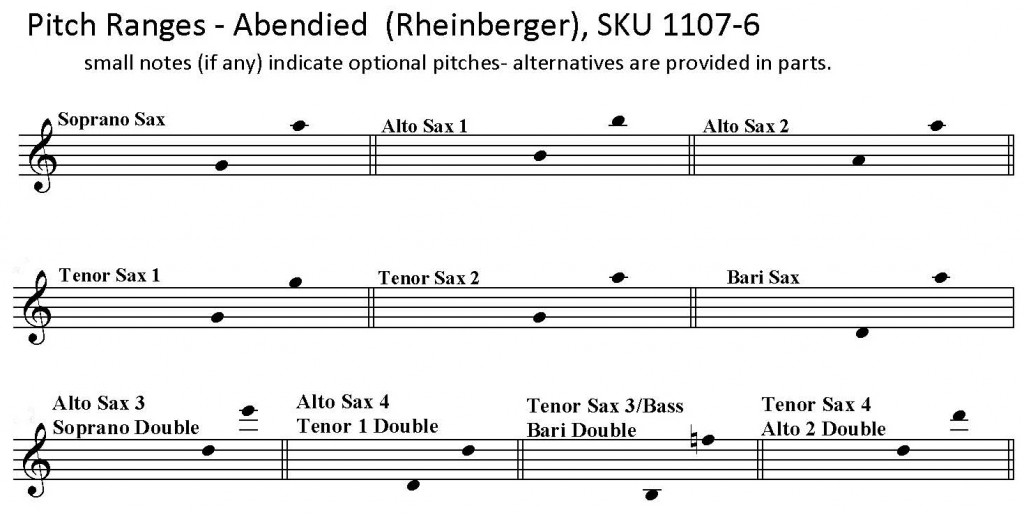 Click here to see a video of a 60 player saxophone choir
at the 5th Annual Atlanta Saxophone Day performing this piece.
YouTube will open in a new tab/window.
Born in Vaduz, the capital of Liechtenstein, Josef Rheinberger has come to be considered to be that country's most important composer. He began his musical studies at the age of 5 and assumed his first professional post two years later. In 1851 he entered the Munich Conservatory, where he became professor of piano and composition. Although he was a prolific composer of choral and orchestral works, Rheinberger's music fell out of favor shortly after his death in 1901. Today he is remembered almost exclusively for his elaborate and challenging organ compositions. Happily, audiences are beginning to rediscover the beauty of his other music. His Abendlied has become a favorite of choral ensembles around the world.