Pavane, Op. 50 (1886)
Gabriel Fauré, (1845 – 1924)
Saxophone Quintet SAATB
Pavane, Op. 50 by Gabriel Faure, arranged for Saxophone Quintet SAATB. The original version of Pavane was written for piano in the late 1880s. The composer described it as "elegant, but not otherwise important". He orchestrated the work in the summer of 1887. At first Fauré planned a purely orchestral composition but after he decided to dedicate the work to his patron, Countess Greffulhe, he felt compelled to produce a grander affair. At her recommendation he added an off-stage chorus to accompany the orchestra. The choral lyrics were based on some inconsequential verses contributed by the Countess's cousin, on the romantic helplessness of man, and about squabbling dancers.
The "pavane," from which Faure's piece borrows its title and its underlying rhythm, is a sixteenth century court dance, performed in pairs, often as part of a wedding procession.
This arrangement for saxophone quintet is transposed down a half step from the original key of F# minor to the key of F minor. Printed score and parts are letter size (8.5″ x 11″).
Each saxophone part range is shown below.
Audio and score excerpts are available above.
Registered users can download a complete sample score and full length audio file of Pavane, Op. 50
Sax Quintet on the 'Samples' tab.

About the Composer
Gabriel Fauré, (May 12, 1845 – Nov. 4, 1924)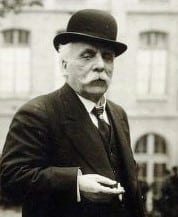 Gabriel Fauré a composer whose refined and gentle music influenced the course of modern French music. His musical abilities became apparent at an early age. When the Swiss composer and teacher Louis Niedermeyer heard the boy, he immediately accepted him as a pupil. Fauré studied piano with Camille Saint-Saëns, who introduced him to the music of Franz Liszt and Richard Wagner. While still a student, Fauré published his first composition, a work for piano, Trois romances sans paroles (1863). In 1896 he was appointed church organist at the church of La Madeleine in Paris and professor of composition at the Paris Conservatory. In 1905 he succeeded Théodore Dubois as director of the conservatory, and he remained in office until ill health and deafness forced him to resign in 1920. Among his students were Maurice Ravel, Georges Enesco, and Nadia Boulanger.