Act 5 Introduction and Prayer from Reinzi
Richard Wagner, (1813 – 1883)
Saxophone Choir
Act 5 Introduction and Prayer from Reinzi by Richard Wagner, arranged for Saxophone Choir SSAATTBBBs. Although not frequently performed today, Rienzi (1842) was Wagner's first opera to be successfully staged. Later in his career, Wagner disowned it as it is more similar to French grand opera than his usual style.  This extract is one of the work's best known sections.
The piece begins with quiet trumpet calls in the soprano sax part over anxious chords and arpeggio figures from the rest of the ensemble. The main theme is introduced by a quiet chorale. The chorale and theme build to a climax then the tenor 1 dominates a short interlude before the main theme returns. Afterwards, the atmospheric chords of the opening return and then fade to a delicate close. Technically, the piece is simple. The challenge comes with delivering the simple phrases with conviction and clarity.
The range for each saxophone part is shown below.
Audio and score excerpts are available above.
Registered users can download a complete sample score and full length audio file of Act 5 Introduction and Prayer from Rienzi on the 'Samples' tab.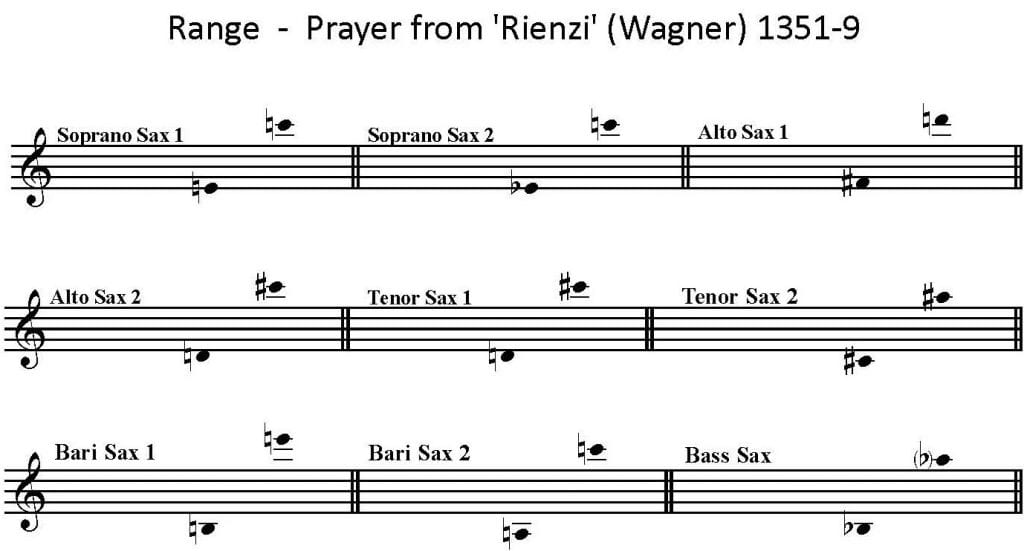 About the Composer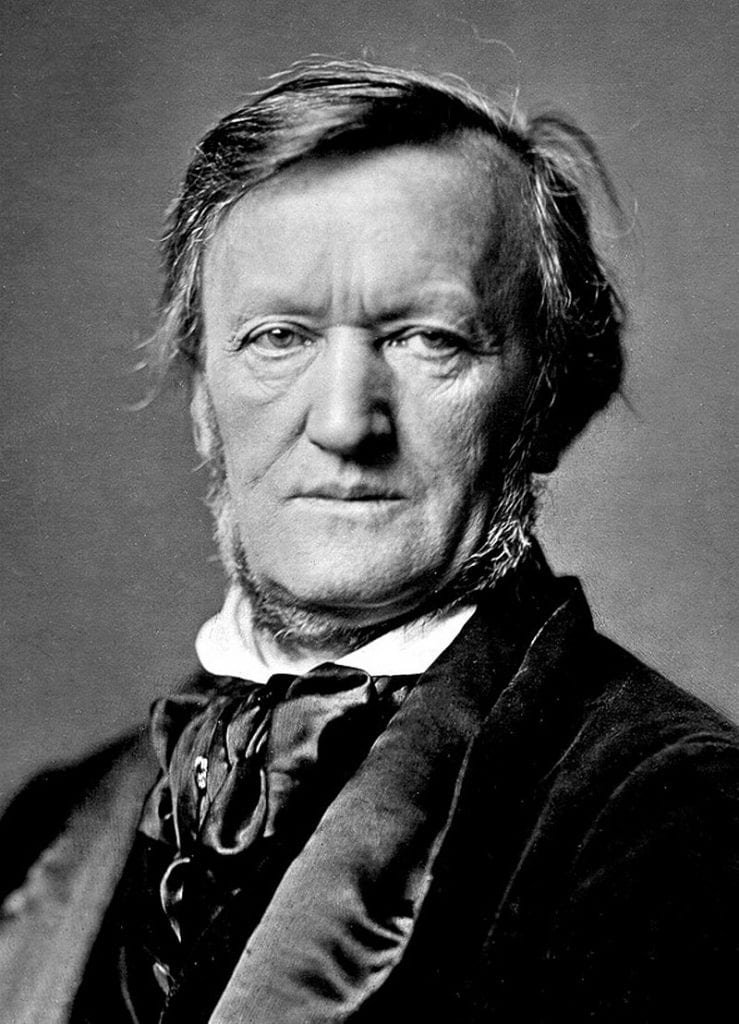 Wilhelm Richard Wagner (22 May 1813 – 13 February 1883)
An influential German composer, conductor, music theorist, and essayist, Wagner is primarily known for his operas (or "music dramas" as he later came to call them). His earliest operas, including "Rienzi" were not successful. Compositions after 1843 were more warmly received. Wagner's operas particularly those of his later period, are notable for their contrapuntal texture, complex harmonies and orchestration, and elaborate use of leitmotifs: themes associated with specific characters, locales, or plot elements.
Wagner's chromatic musical language prefigured later developments in European classical music (Anton Bruckner, Gustav Mahler, Richard Strauss et al), including extreme chromaticism and atonality (Alban Berg, Anton Webern, Arnold Schönberg et al). He transformed musical thought through his idea of Gesamtkunstwerk ("total art-work"), epitomized by his monumental four-opera cycle Der Ring des Nibelungen (1876). His concept of leitmotif and integrated musical expression was also a strong influence on many 20th century film scores. Wagner was and remains a controversial figure, both for his musical and dramatic innovations, and for his anti-semitic and political opinions.