The Witches Frolic(1926)
Granville Bantock (1868 – 1946)
Saxophone Trio, Flexible Scoring
The Witches Frolic, by Granville Bantock, arranged for Saxophone Trio, flexible scoring. The Witches Frolic was composed in 1926, originally as part of the incidental music for a prodction of Macbeth, and rearranged for bassoon trio the following year by the composer. This version is for saxophone trio, flexible scoring.
The piece opens with a jerky, rhythmic tune. After that's established, the second part joins in. When the third part joins, new material is added, sometimes lyrical, sometimes rhythmic. From there the work expands and goes on a fun journey with one part having the main melody and the others providing backup accompaniment. After a fanfare coda the piece sweeps up and down scales for a lively ending.
The opening tempo indication of Witches Frolic by Bantock for flex sax trio is Allegretto grottesco. About 108 – 116 bpm is a good tempo. At the coda the tempo increases to about 124 bpm. It is in 6/8 throughout. The piece is in the original keys of D minor D major. For saxophones, the key is somewhat challenging. The overall range of the piece is quite low. The performance time is between 2 – 2.5 minutes.
Along with a trio score of The Witches Frolic, the following parts are included:
Part 1 for Alto Saxophone, Tenor Saxophone, or Baritone Saxophone
Part 2 for Tenor Saxophone, or Baritone Saxophone
Part 3 for Baritone Saxophone or Bass Saxophone
Parts may be played in any combination.
The range for each saxophone part is shown below.
Audio and score excerpts are available above.
Registered users can download a complete sample score and full length audio file of The Witches Frolic
Bantock
Sax Trio, Flexible Scoring on the 'Samples' tab.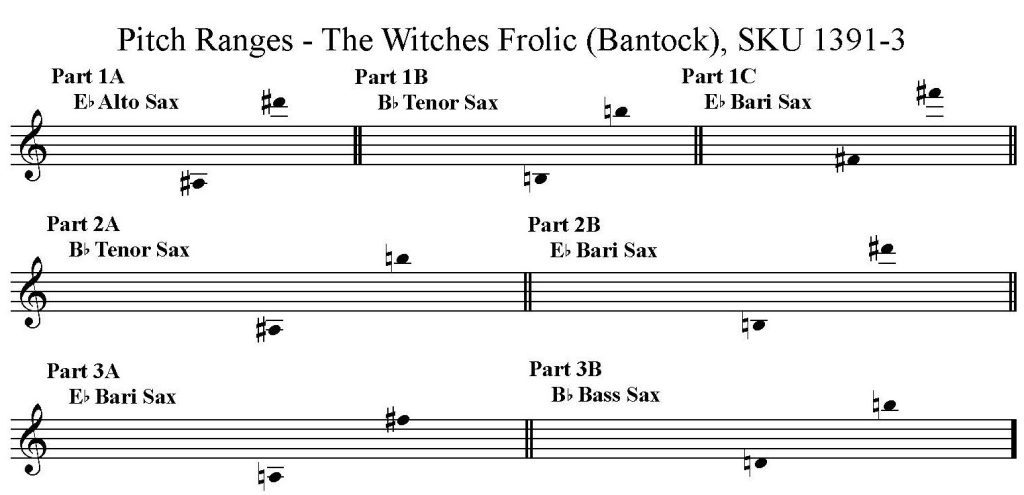 About the Composer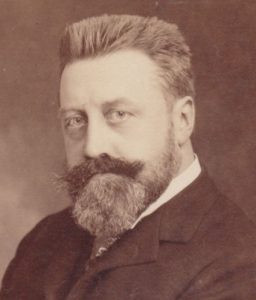 Sir Granville Ransome Bantock (Aug. 7, 1868 – Oct. 16, 1946) was a British composer and conductor, born in London. His parents hoped he might enter the Indian Civil Service, but poor health prevented him from that. He began a degree in chemical engineering, but around 20 years old, he changed his interests to music. His first teacher was at Trinity College of Music, and in 1888 he entered the Royal Academy of Music, studying with Frederick Corder.
Bantock's conducting took him around the world, and he was known at times for devoting an entire concert to one composer. He was professor at the University of Birmingham (succeeding Sir Edward Elgar) from 1908 – 1934, and elected Chairman of the Corporation of Trinity College of Music in London. He was knighted in 1930.
Bantock's output was not insignificant, and he wrote for many different genres, including opera, oratorio, symphonic works, choral works, and chamber music in less common configurations.