Fanfare from Sinfonietta
Leos Janacek (1854 – 1928)
Saxophone Choir
Fanfare from Sinfonietta, by Leoš Janáček arranged for saxophone choir SSSAAATTTBBBs + timpani. After hearing a brass band, Janacek decided to write a fanfare. In 1926 an athletic organization  commissioned a work for a gymnastics festival.  To fulfill the commission Janacek composed his Sinfonietta. The fanfare became its first movement.
Although Janacek is known for his many operas, the Sinfonietta is his most popular instrumental work. The Fanfare is its best known section. Repeated phrases evolve through a series of short sections that build to an incredible climax. This piece is aurally stunning and rivals Aaron Copland's 'Fanfare for the Common Man' as the most impressive of its type. The Fanfare is more than just a lively introduction and coda to the Sinfonietta. Much of the thematic material you hear throughout the piece is connected through a subtle web of musical relationships. Many of the tunes are closely related to the opening fanfare.
Included with this saxophone choir arrangement of Fanfare from Sinfonietta are the following parts:
Soprano Sax 1-2-3
Alto Sax 1-2-3
Tenor Sax 1-2-3
Baritone Sax 1-2-3 (3rd part is bass sax double and is optional)
Bass Sax
Timpani
Each saxophone part range is shown below.
Audio and score excerpts are available above.
Registered users can download a complete sample score and full length audio file of Fanfare from Sinfonietta Saxophone Choir on the 'Samples' tab.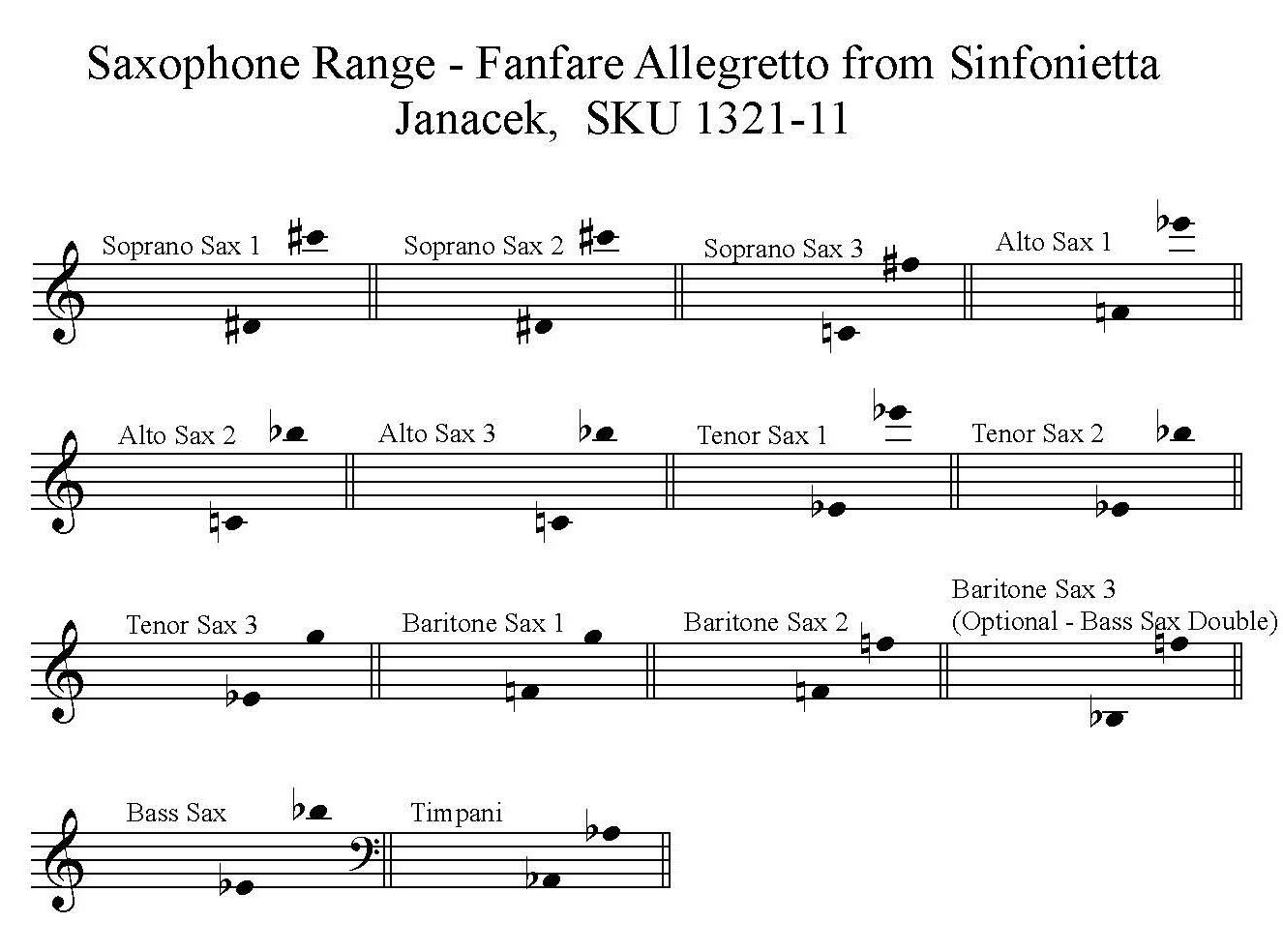 About the Composer
Leos Janácek (1854-1928) is regarded as the greatest Czech composer of the early twentieth century. In his early works, Janácek followed a traditional, Romantic idiom, typical of late nineteenth century music. However, Janácek immersed himself in the folk music of his native Moravia, gradually developing an original compositional style. Janácek actively contributed to his country's musical life as a teacher, critic, and organizer. Founder of the Brno Organ School (later to become the Brno Conservatory), director of the Czech Philharmonic Orchestra, teacher at the State Conservatory of Prague, and initiator of many musical festivals, Janácek greatly enriched Eastern European music education and culture.