Élégie, Op. 24 (1880)
Gabriel Fauré (1845-1924)
Baritone Saxophone and Piano
Élégie, Op. 24 by Gabriel Fauré, arranged for Bari Saxophone and Piano. Composed in 1880, It is one of many significant works for cello written by French composer Gabriel Fauré. Élégie, Op.24 was conceived as the slow movement of a cello sonata. The sonata was  never completed. Élégie was first performed in 1883 and later published as a stand-alone piece. The piece begins with a melancholy them in C minor that gives way a lighter, more cheerful B-theme.  The second theme builds to an intense transition before returning to a passionate re-statement of the original theme then fades to a quiet ending.
Fauré later orchestrated this work for cello and orchestra. Many other arrangements exist as solo with piano. This version is for solo baritone saxophone with piano. It is in the original key of C minor/E-flat major. The bari sax part extends well into the altissimo range as shown below. Alternate notes are provided in the part for performers who do not wish to play altissimo.
The range for the bari sax solo part is shown below.
Audio and score excerpts are available above.
Registered users can download a complete sample score and full length audio file of Élégie, Op. 24 on the 'Samples' tab.

About the Composer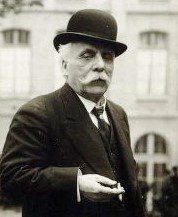 Gabriel Urbain Fauré (12 May 1845 – 4 November 1924)
Gabriel Urbain Fauré (1845 – 1924) was a French composer, organist, pianist and teacher and was one of the foremost French composers of his generation. His musical style influenced many 20th-century composers and among his best-known works are his Pavane, Requiem, Nocturnes, Après un rêve and Clair de lune, alongside a wealth of instrumental and vocal music. Although his best-known and most accessible compositions are generally his earlier ones, Fauré composed many of his most highly regarded works in his later years, in a harmonically and melodically much more complex style.
Among his teachers was Camille Saint-Saëns, who became a lifelong friend, and after graduating in 1865, Fauré earned a modest living as an organist and teacher, leaving him little time for composition. He subsequently was appointed to the important posts of organist of the Église de la Madeleine and director of the Paris Conservatoire.
Fauré's music has been described as linking the end of Romanticism with the modernism of the second quarter of the 20th century. When he was born, Chopin was still composing, and by the time of Fauré's death, jazz and the atonal music of the Second Viennese School were being heard. Grove's Dictionary of Music and Musicians describes him as the most advanced composer of his generation in France and noted that his harmonic and melodic innovations influenced the teaching of harmony for later generations.