Funeral March of a Marionette (1872)
Charles Gounod 1818 – 1893
S/AATB Saxophone Quartet
Funeral March of a Marionette by Charles Gounod, arranged for S/AATB saxophone quartet. Funeral March of a Marionette (Marche funèbre d'une marionnette) is a well known piece by Charles Gounod. He wrote it in 1872 for solo piano and orchestrated it in 1879. The march has been used frequently in film and pop culture. It is best known as the theme for the American television program "Alfred Hitchcock Presents", which originally aired from 1955 to 1965. It is an eerie but good humored little tune.
Funeral March of a Marionette is an example of program music. Here's the story it tells: A marionette dies in a duel (introduction). The other marionettes mourn his death. His friends make a funeral procession to the cemetery (beginning of the march). Along the way, the mourners stop off for refreshments and drink a toast to their lost friend (middle section). They continue the procession to the graveyard (conclusion).
This arrangement is for S/AATB saxophone quartet. A soprano sax substitute for alto sax 1 is included so it may be played by an SATB sax quartet as well. This arrangement is based on the 1872 piano version. No cuts have been made. It is in the original keys of D minor and D major. It remains in 6/8 time throughout the piece.
The range for each saxophone part is shown below.
The audio sample above includes the first 1.5 minutes of the piece.
A complete sample score and full length audio file of of Funeral March of a Marionette is available on the 'Samples' tab above.

About the Composer
Charles Gounod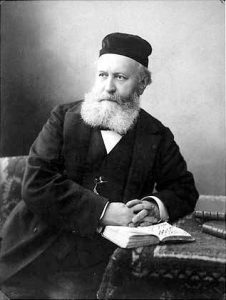 From Wikipedia, the free encyclopedia.
Charles-François Gounod (17 June 1818 – 18 October 1893), known as Charles Gounod, was a French composer. He wrote twelve operas. His Faust (1859) and his Roméo et Juliette (1867) are still performed today. He wrote a large amount of church music, many songs, and popular short pieces. His reworking of a J.S. Bach invention, Ave Maria is very popular at Christmas. "Funeral March of a Marionette" is often performed by orchestras and pianists.
Born in Paris into an artistic and musical family Gounod was a student at the Conservatoire de Paris. He won France's most prestigious musical prize, the Prix de Rome. His four year scholarship took him to Italy, Austria and then Prussia, where he met Felix Mendelssohn, who introduced him to the music of J.S. Bach. He was deeply religious. After his return to Paris, he briefly considered becoming a priest. He composed prolifically, writing church music, songs, orchestral music and operas.
Gounod's career was disrupted by the Franco-Prussian War. He moved to England with his family for refuge from the Prussian advance on Paris in 1870. After peace was restored in 1871 his family returned to Paris but he remained in London, living in the house of an amateur singer, Georgina Weldon, who became the controlling figure in his life. After nearly three years he broke away from her and returned to his family in France. His absence, and the appearance of younger French composers, meant that he was no longer at the forefront of French musical life; although he remained a respected figure he was regarded as old-fashioned during his later years, and operatic success eluded him. He died at his house in Saint-Cloud, near Paris at the age of 75. His funeral took place ten days later at the Church of the Madeleine, with Camille Saint-Saëns playing the organ and Gabriel Fauré conducting. He was buried at the Cimetière d'Auteuil in Paris.
Gounod's influence on later French composers was considerable. In his music there is a strand of romantic sentiment that is continued in the operas of Jules Massenet and others; there is also a strand of classical restraint and elegance that influenced Gabriel Fauré. Claude Debussy wrote that Gounod represented the essential French sensibility of his time.
Read more about Charles Gounod (opens an external link).
More Music from SAXpress
SAXpress Catalog of saxophone quartets