Cantabile and Waltz, Op. 19 MS45 (1823-24)
Niccolò Paganini (1782 – 1840)
Flute Solo with Piano
Cantabile and Waltz flute solo with piano by Niccolo Paganini. These are two lyrical pieces written by Niccolò Paganini for his only student – Camillo Sivori. Since it was composed for a student, it does not require the towering virtuosity that Paganini was famous for. It is difficult but playable. Like most of his violin works, they were not published during his lifetime.
Originally composed for violin and guitar, this arrangement of Cantabile and Waltz has been arranged for flute solo with piano and transposed to the key of E flat. An arrangement of this piece is also available for saxophone and piano.
Audio and score excerpts are available above.
Registered users can download a complete sample score and full length audio file of Cantabile and Waltz
Flute Solo on the 'Samples' tab.
About the Composer
Niccolò Paganini, , legendary Italian violinist; b. Genoa, Oct. 27, 1782; d. Nice, May 27, 1840.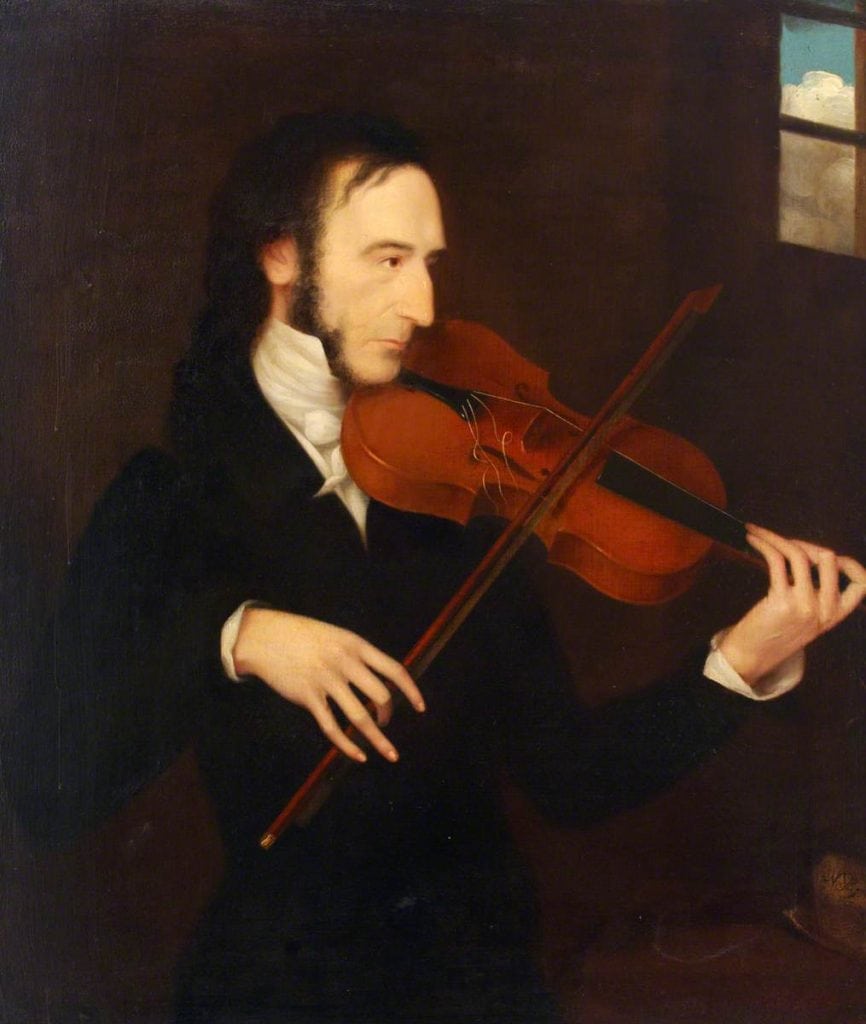 His father, a poor dockworker, gave him his first lessons on the mandolin and violin, after which he studied with Giovanni Servetto, a violinist in the theater orchestra. By this time the young Paganini was already composing and studying harmony. His first public appearance took place on May 26, 1794. Having made phenomenal progress in his studies, he was sent to Parma in 1795 to study with Alessandro Rolla. Upon his arrival in Parma, Rolla is reported to have told him that there was nothing left to teach him and suggested that he study composition instead.
After travelling and giving concerts throughout Italy in 1801 he settled in Lucca, becoming concertmaster of the National Orchestra.
As a soloist, Paganini captivated his audience by his virtuoso pyrotechnics. During an engagement in Livorno he so impressed a wealthy French merchant that he was rewarded with a valuable violin. For a while he became a violinist in the orchestra of Napoleon's sister but became unsatisfied with the lack of opportunity. After 1809 he pursued a career as a virtuoso. He came to national prominence in 1813 with a series of sensationally concerts in Milan. He subsequently toured throughout Italy, his renown growing from year to year and his vast technical resources maturing and augmenting such that he easily displaced his would-be rivals.
In 1827 he was made a Knight of the Golden Spur the Pope. He left Italy for his 1st tour abroad in 1828 and immediately gained triumph with his opening concert in Vienna (March 29). He gave 14 concerts during his stay in Vienna, and was accorded the honorary title of chamber virtuoso by the Emperor and presented with the city's medal of St. Salvator. He had similar successes in Berlin, Paris, and London.
Paganini's artistic fortunes began to decline in 1834; his health was ruined, but he had managed to retain his fame and wealth. He continued to give sporadic concerts in subsequent years, but he spent most of his time at his villa in Parma, making occasional visits to Paris. A critical illness in Oct. 1838 led to the loss of his voice; in Nov. 1839 he went to Nice for his health, and died there the following spring.
Paganini's stupendous technique, power, and control, as well as his romantic passion and intense energy, made him the marvel of his time. He was also a highly effective composer for the violin, and gave regular performances of his works at his concerts with great success. Outstanding among his compositions are the 24 "Caprices" for Solo Violin, the "Moto perpetuo" for Violin and Orchestra, and several of the violin concertos.