Fantasia In F, K. 549 (1790)
Wolfgang Amadeus Mozart, (1756 – 1791)
Saxophone Quintet SAATB or SSATB
Fantasia In F, K. 594 by Mozart, arranged for Saxophone Quintet SAATB or SSATB. Although originally intended for "clockwork organ", this piece is also well known in arrangements for duo pianos, string quartet, orchestra, and woodwind quintet.
This amazing work was composed in the last year of Mozart's life to fulfill an unusual commission. A wealthy Viennese aristocrat, Joseph Deym von Strzitez, owned several mechanical organs (also called musical clocks). One of these was in a public exhibit dedicated to the memory of a military hero. Deym wanted new music every week for his exhibit. This Fantasia In F, K. 594 is the first of three works Mozart composed especially for it.
Mozart's original title is "Adagio and Allegro for Mechanical Organ". Although dissatisfied with the timbre of the instrument, Mozart was pleased to have Deym's money. The music itself exceeded all expectations. One newspaper reported: "Every hour one hears a suitable music which the unforgettable composer Mozart wrote especially for it. It surpasses in precision and clarity everything which was ever attempted or designed for this kind of artistic product".
Fantasia In F, K. 549 (1790)
Sax Quintet begins and concludes in F minor with slow moving chords and a gently descending, "weeping" melody line. The middle section is  a lively allegro in F major and features trumpet calls and flashy counterpoint. All players will be well occupied with this piece.
This arrangement for saxophone quintet is in the original keys of F minor and F major. The Alto Sax 1 part has long sections of 16th note passage work and requires great flexibility on the palm keys. The Soprano Sax 2(Alto 1 sub) makes those sections much easier.
Each saxophone part range is shown below.
Audio and score excerpts are available above.
Registered users can download a complete sample score and full length audio file of Fantasia In F, K. 549 (1790)
Sax Quintet on the 'Samples' tab.
Saxophone Range for Fantasia In F, K. 549 by Mozart

About the Composer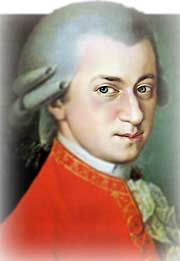 Wolfgang Amadeus Mozart (27 January 1756–5 December 1791) was one of the most influential, popular and prolific composers of the classical period. He composed over 600 works, including some of the most famous and loved pieces of symphonic, chamber, operatic, and choral music.
Mozart was born in Salzburg to a musical family. From an early age, the young Mozart showed all the signs of a prodigious musical talent. By age five he could read and write music, and he would entertain people with his talents on the keyboard. At six he was writing his first compositions. Mozart was generally considered to be a rare musical genius, although he was also diligent in studying other great composers such as Haydn and Bach.
During his childhood, he would frequently toured Europe playing for distinguished guests. At 17, he accepted a post as a court musician in Salzburg; although this did not suit him very well, the next few years were a time of prolific composition. In 1781, he moved permanently to Vienna. There he became well known and was often in demand as a composer and performer.
Mozart was brought up a Roman Catholic and remained a member of the church throughout his life. Some of his greatest works are religious in nature such as Ave Verum Corpus and the Requiem. Mozart was productive until his death in 1791, aged 35. In the last year of his life, he composed the opera The Magic Flute, the piano concerto (K. 595 in B-flat), the Clarinet Concerto K. 622, a string quintet (K. 614 in E-flat), the famous motet Ave verum corpus K. 618, and the unfinished Requiem K. 626 as well as the Fantasia In F, K. 549 (1790)
Sax Quintet.
Citation:www.biographyonline.net, 28th May 2008 Updated 3rd October 2017
Read an excellent article about Mozart in the July 24, 2006 issue of The New Yorker HERE.